Name Change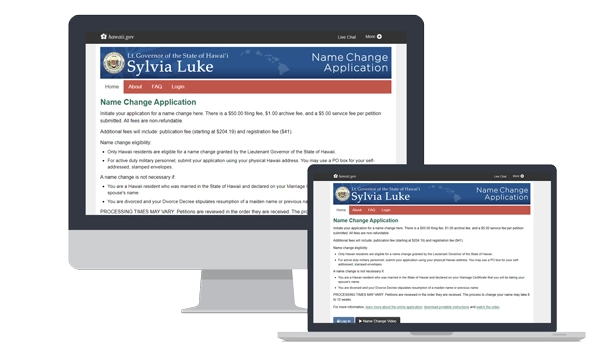 Allows individuals and couples to prepare for, pay, and track the name change process online.
Developed in partnership with:
---
Fees:
$55 Application Fee
Other Related Fees: See FAQs
transactions this year
Related Services
Order a copy of your Hawaiʻi birth certificate online.
Order a Hawaiʻi marriage certificate online.
Couples can apply and pay for a marriage license as well as locate a performer to complete the ceremony. Performers may also register online to be licensed by the state.
---
Videos
To submit a name change application online, it is required that petitioners have an eHawaii.gov account. The following informational videos explain just what an eHawaii.gov account is, how to create one, and what to do if you forget your password.
---
Help
Ask the Agency
Most questions can best be resolved by contacting the state agency directly.
How Do I...
Make a legal name change?

Visit the Name Change Application to prepare for, pay, and track your name change process online.
Technical Help
More Information