Marriage License Application
Couples can apply and pay for a marriage license as well as locate a performer to complete the ceremony. Performers may also register online to be licensed by the state.
Developed in partnership with:
---
Awards
2013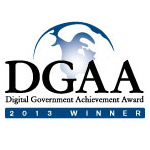 Digital Government Achievement Award (DGAA) – Government-to-Citizen State Government Category
Help
Ask the Agency
Most questions can best be resolved by contacting the state agency directly.
How Do I...
---
More Information