Liquor Licenses & Permits: County of Hawaiʻi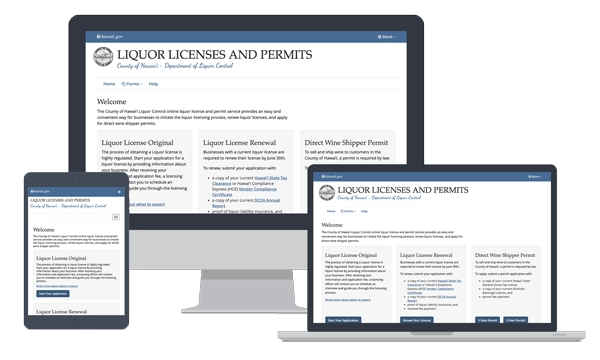 Apply for a liquor license, renew an existing license or apply for a direct wine shipper permit for your business.
Developed in partnership with:
---
Fees:
Liquor License Original - $2.50
Liquor License Renewal - Variable
Direct Wine Shipper Permit, 1-year - $2.40
Direct Wine Shipper Permit, 2-year - $4.80
transactions this year
Related Services
Pay your real property tax bill for property in the County of Hawaiʻi.
Apply for a personalized license plate online in the City & County of Honolulu.
Purchase a camping or cabin permit for locations on the island of Hawaiʻi.
Pay your Board of Water Supply bill online.
---
Help
Ask the Agency
Most questions can best be resolved by contacting the state agency directly.
Technical Help