eProcurement System: HIePRO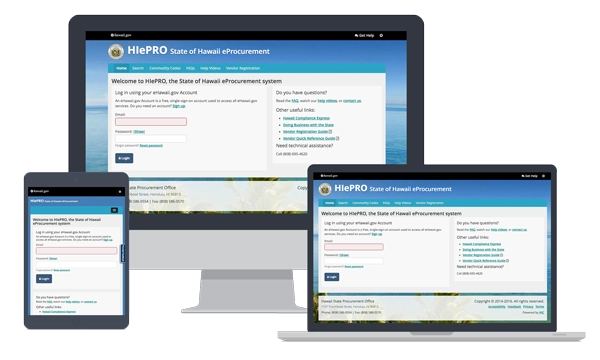 Allows buyers to submit solicitations and create awards and vendors can compete for contracts.
Developed in partnership with:
---
Fees:
There is no fee to register or respond to a solicitation. If awarded, the vendor must pay a fee of .75% of the award or estimated award (capped at $5,000).
transactions this year
Related Services
Provides an online certificate of Vendor Compliance for your business entity that eliminates the need to obtain individual copies of clearances with the IRS, Department of Labor, DCCA, and State Tax offices.
---
---
Help
Ask the Agency
Most questions can best be resolved by contacting the state agency directly.
Technical Help
More Information