Hawaiʻi Awards & Notices Data System (HANDS)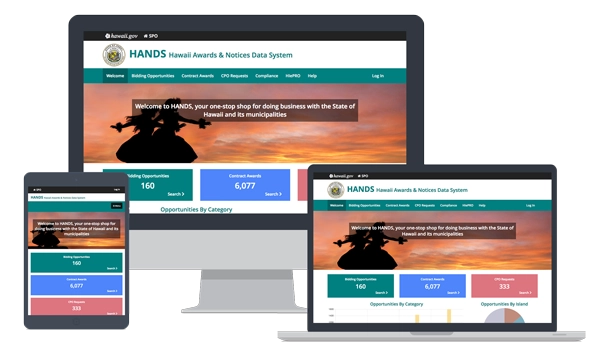 Search for bidding opportunities, contract awards, and CPO requests throughout multiple state and county procurement platforms in a single location.
Developed in partnership with:
---
Fees:
Free
Related Services
Allows buyers to submit solicitations and create awards and vendors can compete for contracts.
Provides an online certificate of Vendor Compliance for your business entity that eliminates the need to obtain individual copies of clearances with the IRS, Department of Labor, DCCA, and State Tax offices.
Online auction for the re-use of surplus property.
---
Videos
This video will demonstrate how to search for opportunities and awards on HANDS.
---
Help
Ask the Agency
Most questions can best be resolved by contacting the state agency directly.
Technical Help