Fishing Permits (Fresh Water)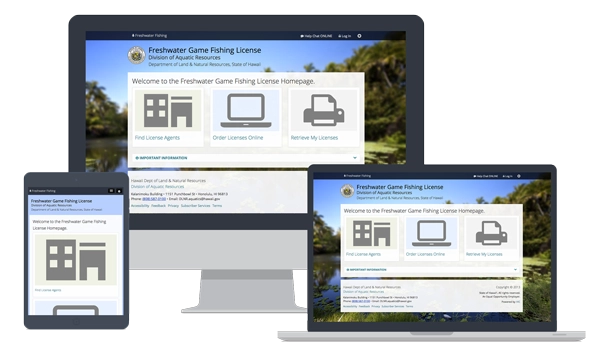 Purchase and print a freshwater fishing license.
Developed in partnership with:
---
Fees:
Minor - $4.00
Resident - $6.00
Non-Resident - $26.00
7-day Tourist - $11.00
30-day Tourist - $21.00
Senior - $1.00
transactions this year
Related Services
Submit an application to register your fishing vessel to fish for bottomfish.
Registration renewal for your fishing vessel to fish for bottomfish.
Apply for a new commercial fisheries license, for either an individual or business license.
Renew a commercial fishing license online.
Allows vendors to register and purchase landing permits to regulated Department of Land and Natural Resources sanctuaries.
Submit your commercial fishing report online.
---
Help
Ask the Agency
Most questions can best be resolved by contacting the state agency directly.
Technical Help
More Information