Film Permit Application for DLNR Open and Accessible Sites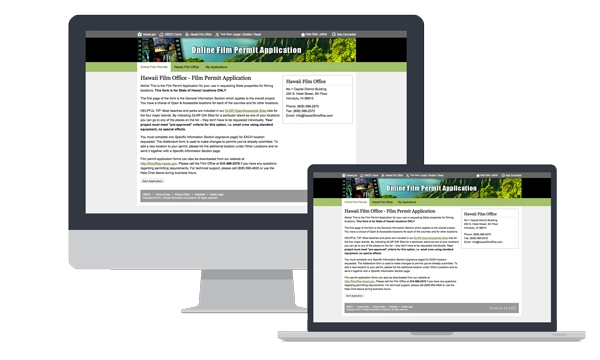 For obtaining Open and Accessible (O/A) ePermits to film and photograph on DLNR O/A sites only.
Developed in partnership with:
---
Fees:
$10
transactions this year
Related Services
Permitting service for authorized applicants to reserve and purchase permits for commercial activity on unencumbered land, specifically, state public beaches. Commercial activity examples may include: beach weddings, the scattering of ashes, or the teaching of a hula class.
Allows you to search all businesses registered in the State of Hawaiʻi. Most documents and filings are available to purchase.
Provides an online certificate of Vendor Compliance for your business entity that eliminates the need to obtain individual copies of clearances with the IRS, Department of Labor, DCCA, and State Tax offices.
Purchase and print camping and cabin permits for all islands.
---
Help
Ask the Agency
Most questions can best be resolved by contacting the state agency directly.
Technical Help
More Information