Calendar (For Hawaiʻi Public Meetings)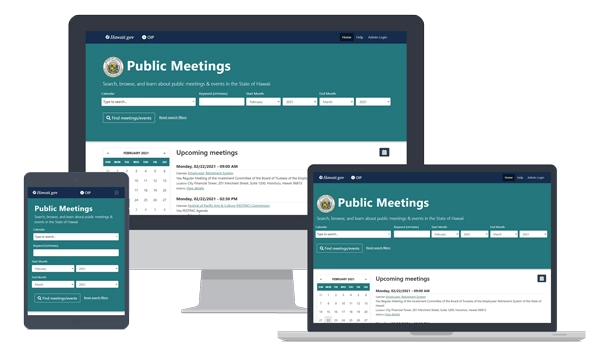 View the official state calendar for public meetings and events.
Developed in partnership with:
---
Fees:
Free
Videos
To add events to the Hawaiʻi State Calendar, it is required that you have an eHawaii.gov account. The following informational videos explain what an eHawaii.gov account is, how to create one, and what to do if you forget your password. An eHawaii.gov account is not required to view the calendar.
---
Help
Instructions
For access to the calendar:
Please email your request to partners@ehawaii.gov.
Include your name, title, phone and email and the department/board you need to access.
We will contact you to confirm arrangements for you to access a calendar.
If it is an urgent matter, please call NIC Hawaii Customer Service at (808) 695-4620 after you have sent the email.
Ask the Agency
Most questions can best be resolved by contacting the state agency directly.
Technical Help
More Information
The Sunshine Law is Hawaiʻi's open meetings law, which governs the manner in which all state and county boards must conduct their official business. All events posted to the State Calendar must meet these requirements.