Calendar (For Hawaiʻi Public Meetings)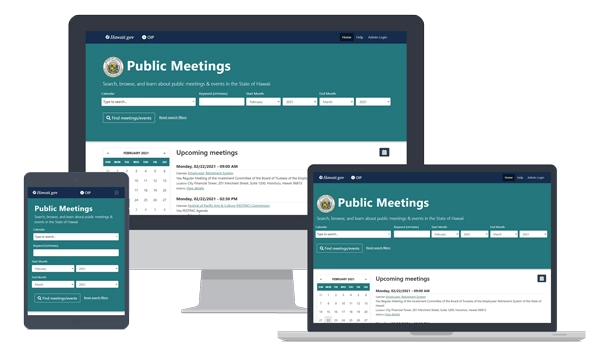 View the official state calendar for public meetings and events.
Developed in partnership with:
---
Fees:
Free
Videos
To add events to the Hawaiʻi State Calendar, it is required that you have an eHawaii.gov account. The following informational videos explain what an eHawaii.gov account is, how to create one, and what to do if you forget your password. An eHawaii.gov account is not required to view the calendar.
---
Help
Instructions
For access to the calendar:
1. Create a user account for yourself or your department/board.
2. After you have successfully created an account, please email info@ehawaii.gov with your contact information, account email address, and the requested calendar name.
3. You will receive an email when your user account is updated.
Technical Help
More Information
The Sunshine Law is Hawaiʻi's open meetings law, which governs the manner in which all state and county boards must conduct their official business. All events posted to the State Calendar must meet these requirements.