Airport Auction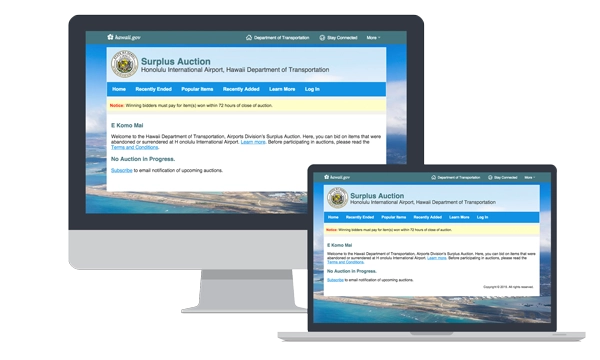 Online auction website for surrendered and lost-and-found items from the Daniel K. Inouye International Airport.
Developed in partnership with:
---
Fees:
Variable
transactions this year
Related Services
Your one stop resource for all traffic information on Oʻahu.
Search for unclaimed property in Hawaiʻi.
---
Videos
To bid on an item in the Surplus Auction, it is required that you have an eHawaii.gov account. The following informational videos explain what an eHawaii.gov account is, how to create one, and what to do if you forget your password. An account is not required to view the items in the auction.
---
Help
Ask the Agency
Most questions can best be resolved by contacting the state agency directly.
Technical Help
More Information
Pick up of items shall be at the Honolulu International Airports - Overseas Parking Structure - Terminal Services - Lost and Found Office from 8:00 a.m. to 3:30 p.m. Monday through Friday.